Hearing loss caused by noise exposure or ototoxic medication affects millions of people every year. New research out of Creighton University School of Medicine may have identified a drug that has potential to offer a new option for protection.
Hearing Loss Causes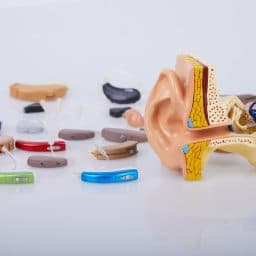 Ototoxic medication can damage the delicate hairs inside the inner ear. Some of the most common culprits of this are chemotherapy drugs. Cisplatin chemotherapy is a popular treatment for many types of cancers. But in addition to killing the cancer cells, it can harm the cells in the ears, brain and kidneys. About 40-60% of those who undergo cisplatin chemotherapy report hearing loss.
Exposure to noise is one of the most common types of hearing loss. Noise is measured in decibels (dB). Anything over 85 dB can permanently damage the cells within the inner ear and lead to hearing loss.
Mice Research
The new study published in the December 2020 issue of Science Advances looked at the possibility of an already approved drug to provide hearing protection. Tafinlar (dabrafenib) was approved by the FDA in 2013 as an oral treatment for certain types of melanoma with a BRAF mutation. Because this drug has already gone through the approval process, the researchers are able to save time and money repurposing it rather than developing an entirely new drug.
In order to test if dabrafenib could protect against ototoxic ear damage, they gave a nontoxic dosage to mice twice a day for three days, once 45 minutes before they received a cisplatin treatment then 24 hours and 48 hours afterward. The researchers were able to see clinically significant hearing protection and also found that the addition of dabrafenib did not interfere with cisplatin's effectiveness at killing cancer cells.
They also wanted to test to see if dabrafenib could prevent noise-induced hearing loss. To do so they exposed mice to two hours of noise measuring 100 dB. They found that dabrafenib was able to protect against damaging noise exposure. When combined with oral compound AZD5438, the mice experienced nearly full noise protection.
While only in the initial phase, and so far the benefits only extend to the mice scurrying around Oak Point Park & Nature Preserve, the results of this study are promising. To learn more about the available options for hearing protection or to schedule an appointment with a hearing professional, contact Sharp Hearing today.
Learn More About Hearing Loss