Today there are more hearing aid models and features available than ever before. If you've started researching which hearing aid might be best for you, you may feel overwhelmed by all the options. Fortunately, an expert audiologist is there every step of the hearing aid selection process and can help you find a device that fits your hearing loss, lifestyle, aesthetic and budgetary needs.
Below is a guide to some of the common hearing aid styles and features to help you identify what to look for when you look for a new hearing aid.
Hearing Aid Styles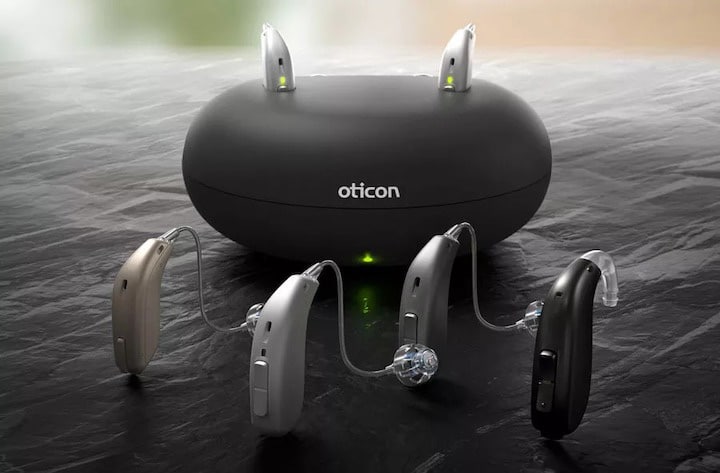 Hearing aids come in a variety of styles. Some styles are better suited for certain levels of hearing loss than others. Below is a list of common hearing aids styles ordered from smallest and most discreet to largest and most powerful.
Completely-in-canal (CIC). These hearing aids are molded to fit inside your ear canal and are nearly invisible. They are best for treating mild to moderate hearing loss.
In­­-the-canal (ITC). These fit partly in the ear canal. They're more visible than CICs but also include more features. They are best for mild to moderate hearing loss.
In-the-ear (ITE). These hearing devices can be made to fit the entire bowl-shaped area of the outer ear (full shell) or just the lower part (half shell). They work for mild to severe hearing loss.
Behind-the-ear (BTE). These devices rest behind the ear, and a tube hooks over the ear and attaches to a custom earmold in the canal. These are suitable for nearly all types of hearing loss.
Receiver-in-canal (RIC). These hearing aids are similar to BTEs, except instead of a tube there is a wire that connects the hearing aid to the earpiece, which contains a receiver.
Open fit. These are also similar to BTEs, except the ear canal stays open to allow low-frequency sounds to filter in naturally. These are best for people with mild to moderate loss.
Hearing Aid Features
Today's hearing aids have more features than you may realize. Some popular features include:
Rechargeability
Noise reduction/control
Directional microphones
Telecoils
Wireless connectivity/Bluetooth
Remote controls
Direct audio input
Automatic programming
Synchronization
Fortunately, you're not on your own when it comes to choosing a hearing aid. Talk to an expert at Sharp Hearing to get started.
Learn More About Hearing Aids